M. Tech. in Energy Science and Technology
Department of Electrical and Electronics Engineering was started with the Inception of the college in 1963. Department offers Graduate, post graduate and research programs (VTU & QIP). It has well equipped laboratories with state of art equipment. Department has a separate computer centre with 25P-IV IMB desktop PC's connected to 600 MBPS campus network. Seminar hall with all modern audio-visual teaching aids, is available inside the department. Legal software's like MATLAB, MI-Power and Auto CAD (Electrical) have been procured. The department library has more than 1000 books in E&EE discipline. All classes are equipped with smart boards. Students excel in academics under the constant guidance of qualified and dedicated staff. Faculty and student development programs are regularly organised. The graduating students are well placed in industry as well as in academic through campus placements and direct recruitment.
Programs Offered :
B.E (Electrical and Electronics Engineering)
M. Tech. (Energy Science and Technology)
Ph. D. (VTU and QIP)
To be in the global forefront of Academic Excellence, Research, and Innovation in Electrical and Electronics Engineering to influence and meet the energy, environment, industrial and societal needs
To practice dynamic teaching-learning processes adapting to ongoing global technological developments in the field of Electrical and Electronics Engineering.
To involve ourselves in national/international (industry/institute) collaborations for higher studies,
research, development and innovation.
To carryout inter-disciplinary projects, skill development activities and field visits to imbibe real life
experiences in students.
To render empathetical services to resolve energy, ecology and environmental issues.
Graduate Programme
The Department offers a graduate programme of four years (Eight Semesters) leading to B.E. (Electrical & Electronics) degree. The programme has an intake of 60 students per year. The programme is regularly upgraded by introducing new electives and compulsory courses.
Postgraduate Programme
M.Tech in Energy Science and Technology is an interdisciplinary program, combining science & technology from electrical, mechanical, environmental and electronic & communication engineering. The programme offers an insight to interdisciplinary & complexity of energy issues/devices/processes and imparts methods & solutions from various subject domains. This will be a unique program that provides an in-depth understanding of different fields including solar, wind energy, biogas & bio mass, electricity storage, electric vehicles, sustainability, reliability, O&M of SPV and wind plants, energy management etc. Through this course, students are introduced to science and technology associated with energy, along with the insights on waste to energy recovery. The program also focuses upon the recent topics as Green Building (sustainable construction) and Smart Grids, Microgrids and IOT applications in energy systems. Further, the graduates from this programme shall find job opportunities in energy management in different sectors viz. Industry, agriculture, transportation, construction, commercial, etc. including academia and R&D labs. The program will also focus on equipping students to become entrepreneurs and take-up consultancy. This program provides an opportunity to students of different engineering disciplines to work together.
Research Programme
The department is a recognized Research Centre of Visveswaraya Technological University Belagavi and offers Ph.D and M.SC Engg. by research programs. 13 candidates have been awarded Ph.D degree and currently 10 scholars are registered. The department is also a recognized QJP centre of MoE, Gol. Institute library is a member of VTU consortium, DELNET and N-LIST. Through this research scholars have access to 10,300 e-journals.
Professional Activities
Co-curricular and Extracurricular activities help students to build professional personality. The department has established BEC-Renewable Energy Activity Chapter (REACH) to popularize the concept of renewable energy devices. It would emphasize on the working and usage of renewable energy sources like solar, wind and biomass in day-to-day life. EEE Student Branch, IEEE Power & Energy Student Chapter and EEEA encourage students to participate in co-curricular and extracurricular activities, student conferences, project exhibitions, etc. They also arrange invited technical talks by experts, honours/ rewards staff and student achievers, conducts E&EE Alumni meet, student project exhibition, etc
Key Activities
The facilities are created to encourage students of UG and PG to carry out innovative projects and applications. Other key activities are: identification, Operation and Performance testing of Solar thermal devices (Boiler cooker, Water heater, Drier, Still, Concentration dish cooker) and Solar PV devices. Garden lighting, Street lighting).
Energy conservation studies using lighting loads
Performance analysis of micro wind turbine (Horizontal and Vertical Axis)
SCADA for distribution automation-Campus energy management
Performance analysis of SPV Dc/AC Irrigation pumping systems
Performance and testing of FPGA based Power Electronics and Drives
MoUs Signed
Important MoUs formulated/created for Academic collaborations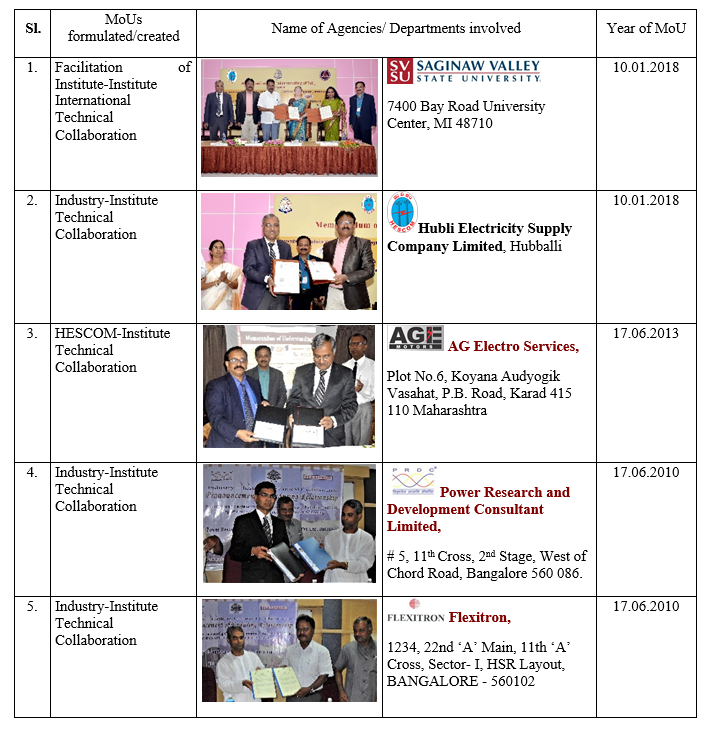 Activities Under MoU
Curriculum revision & restructuring
Collaborative research
Training programs/1nvited talks
Industrial visits/internships
identifying placement opportunities
PRDC-EEE Studentship for UG Students
HOD